Wilderness Fishing at its Finest!
Here at LaTourell's, we cater to those who take their fishing seriously.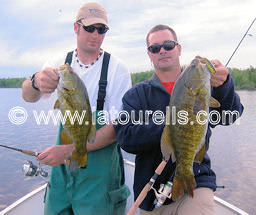 The Ely area is famous for its great variety of quality fishing, and the Moose Lake/Basswood Lake chain have long been known as the premier lakes in the area. Here you will enjoy outstanding fishing for walleyes, smallmouth bass, and northern pike, as well as opportunities for trout and panfish. Basswood Lake is a trophy fish lake that year after year produces incredible fish. It still holds the state record northern pike of 45 lbs 12 oz. With our lifetime of experience in catering to anglers, you can be sure the information and help that we provide will be invaluable in ensuring a successful fishing trip.
Take a look at some of the catches our customers have made!